Share this post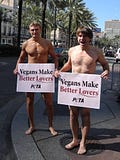 94: Vegan Bodybuilder Robert Cheeke
www.dontforgetyoga.com
94: Vegan Bodybuilder Robert Cheeke
This episode features an interview with Vegan Radio favorite Robert Cheeke, the body builder who is helping vegan athleticism gain definition. His new book "Vegan Bodybuilding & Fitness" is doing great and he tells us all about it. He also talks about his work with Vega, the vegan company that provides all-natural health and performance products for athletes and people who need a natural energy boost.
Derek also took some great photos of Robert Cheeke flexing his vegan guns in downtown New Orleans, and during his participation in Peta's Lovefest demonstration. Check them out on flickr.
The music featured on the show includes Derek playing harmonium and singing Yoga Sutra 1:33, Undersea Poem playing "Nuvens", The Pleasants playing "Streets of Darkness" & "Wounded Man", and Beloved Binge playing the "Vegan Radio Theme Song".